Tourism is a crucial industry for the European economy and job market – in 2016 Travel & Tourism contributed overall with 10.2% of GDP and 24 million jobs to the EU economy. The European Union, with approximately 500 million international tourist arrivals in 2016, remains the world's number one destination. Nonetheless, there are many challenges to be addressed if Europe intends to stay on top. These were discussed during "European Tourism Day", in which colleagues from TUI Group Corporate Office EU participated on 28th November in Brussels.
The high-profile event is organized annually by the European Commission and it is attended by various stakeholders from the industry ranging from legislators, tourism boards and vital tourist regions delegates to representatives of the private sector and NGOs. The theme of the 2017 edition was "The future of EU Tourism".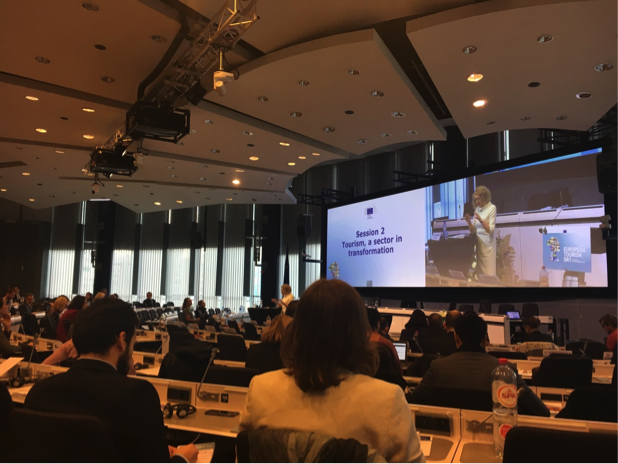 How to spur growth?
Despite being the most attractive destination worldwide, the EU is lagging behind the rest of the world in terms of average tourism industry growth rate. Participants agreed that in order to spur growth in the sector emphasis should be put on the following areas:
Investment in tourism infrastructure,
new technologies and digitalisation,
adjusting current offerings to the fast changing consumer needs,
enhancing skills and competences of tourism professionals,
working on a more coherent strategy for EU tourism, which would attract more international visitors.
More political recognition for the tourism sector
There were also calls for more decisive political action. Mr Istvan Ujhelyi, MEP, who is chairing the European Parliament Tourism Task Force, asked for the establishment of an independent committee responsible solely for tourism. He observed that although the tourism sector is the key driver for the EU's economy, it is being somehow neglected. The statement was supported by other participants, who agreed that the European Commission should step up its efforts and dedicate more resources towards the sector.
Keynote speech at the European Tourism Day. The future of #tourism is in our hands but the industry must be better represented at European level. pic.twitter.com/oA3BhNN2Yr

— István Ujhelyi (@istvan_ujhelyi) 28. November 2017
In focus: EU-China Tourism year
Elzbieta Bienkowska, European Commissioner for Internal Market, Industry, Entrepreneurship and SMEs reinforced the promise of putting more focus on the tourism industry and giving it more recognition as one of the most important branches of the EU economy. She also reminded participants that 2018 is going to be the EU-China Tourism year. The series of events will focus on enhancing economic cooperation between the EU and China, promoting lesser-known destinations and improving travel experience. TUI, with its presence in China and its 2022 growth strategy focusing on new source markets will definitely remain an active participant in these discussions. TUI also supports the European Commission's ambition to devote more resources to tourism and to highlight its important role for economic growth.