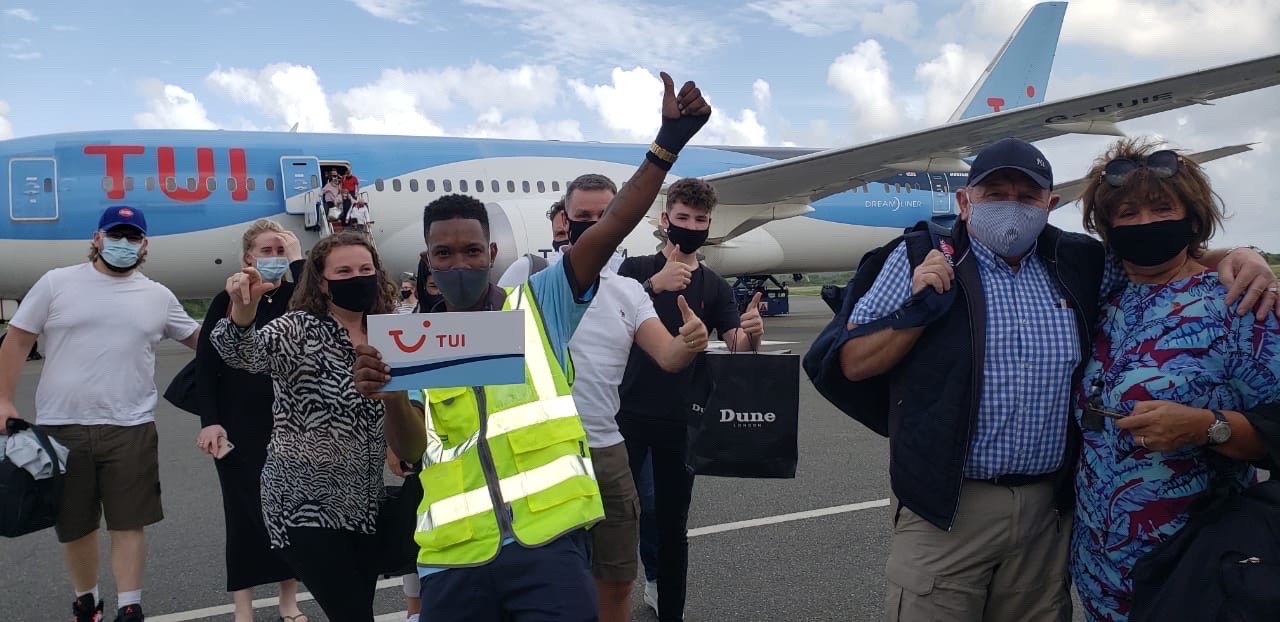 In the summer of 2020, we welcomed around 2.1 million customers despite the corona pandemic. TUI Group takes its responsibility for maximum health protection very seriously at all times. In addition to safe distance, hygiene, and face masks according to legal requirements, we rely on measures we have developed ourselves. Together with Governments, we can make safe travel possible and more agreeable for holidaymakers: by expanding the use of rapid corona antigen tests instead of relying on quarantine for travelers.
Testing for safe travel
The German government currently relies on a 14-day quarantine for travelers from risk areas. Only after five days of quarantine holiday makers can take a corona test, which would lift the quarantine, if the result is negative. This procedure detrimentally impacts any vacation plans outside of Germany. The spread of the corona virus could be more effectively prevented by the targeted use of rapid antigen tests. TUI therefore proposes establishing a double testing strategy with tests before departure and arrival, a method which is field-tested. TUI also offers its guests a Covid 19 self-test. It can be performed at your home, with remote online guidance by medical professionals, and within 15 minutes - easily, safely and quickly. Holiday-makers receive their results during the online video session.
Decades of experience in safety and health management
TUI also ensures safety on site. Teams of experts take a detailed look at holiday destinations and which measures can be taken to ensure safe travel. Our advantage: decades of experience and our own local organization. Even before corona, we offered our customers a 24-hour support service that includes professional safety management and support from several thousand employees in the holiday regions.
Development of dedicated TUI standards
We continue to draw on these structures and our knowledge of local health systems and conditions. In addition, we have developed our own dedicated health and safety standards, some of which go beyond the official requirements, in order to minimize any risk of infection along the entire travel chain. This is also where the advantages of the package tour over individual travel become apparent. The package tour is organized in its entirety by the tour operator, from the flight to the transfer to the hotel or to the cruise ship. The dates and whereabouts of the holidaymakers are known. If necessary, the chain of infection can be traced quickly and easily. Cruises are a good example of pre-testing and traveling in a safe environment: For guests of TUI Cruises and Hapag-Lloyd Cruises, a corona test is included in the cruise price. The result must be presented at boarding before departure. Only guests with a negative corona test are allowed to travel. The ships are currently occupied at a maximum of 60 percent. All passengers can take advantage of free Covid 19 training courses. The newly introduced "Infection Control Officer" monitors all hygiene rules to the strictest standards. Ultimately, the risk on board is significantly lower than for instance when visiting a restaurant, because guests and crew have all tested negative. Our guests support the precautionary measures. On a scale from 0 to 10, they rate the measures taken with an 8.4. Relaxation and safety are not contradictory - and our customers handle the situation responsibly.
Air travelers from typical holiday destinations rarely tested positive
Figures from the Robert Koch Institute show that travelers to classic holiday countries such as Spain or Greece have hardly contributed to the spread of the coronavirus even during the summer. This is also reflected in figures provided by the firm Centogene, which is located at the airports of Frankfurt and Hamburg. A relatively large number of people entering the country from the Balkans tested positive for the corona virus between July and September - in the case of Kosovo this figure was almost 6 percent of those tested. The positivity rates among arrivals from the tourism-oriented countries Spain (0.27 percent), Greece (0.44 percent), Portugal (0.23 percent) and Italy (0.33 percent) were extremely low.