TUI delivered 43 million "greener and fairer" holidays since 2015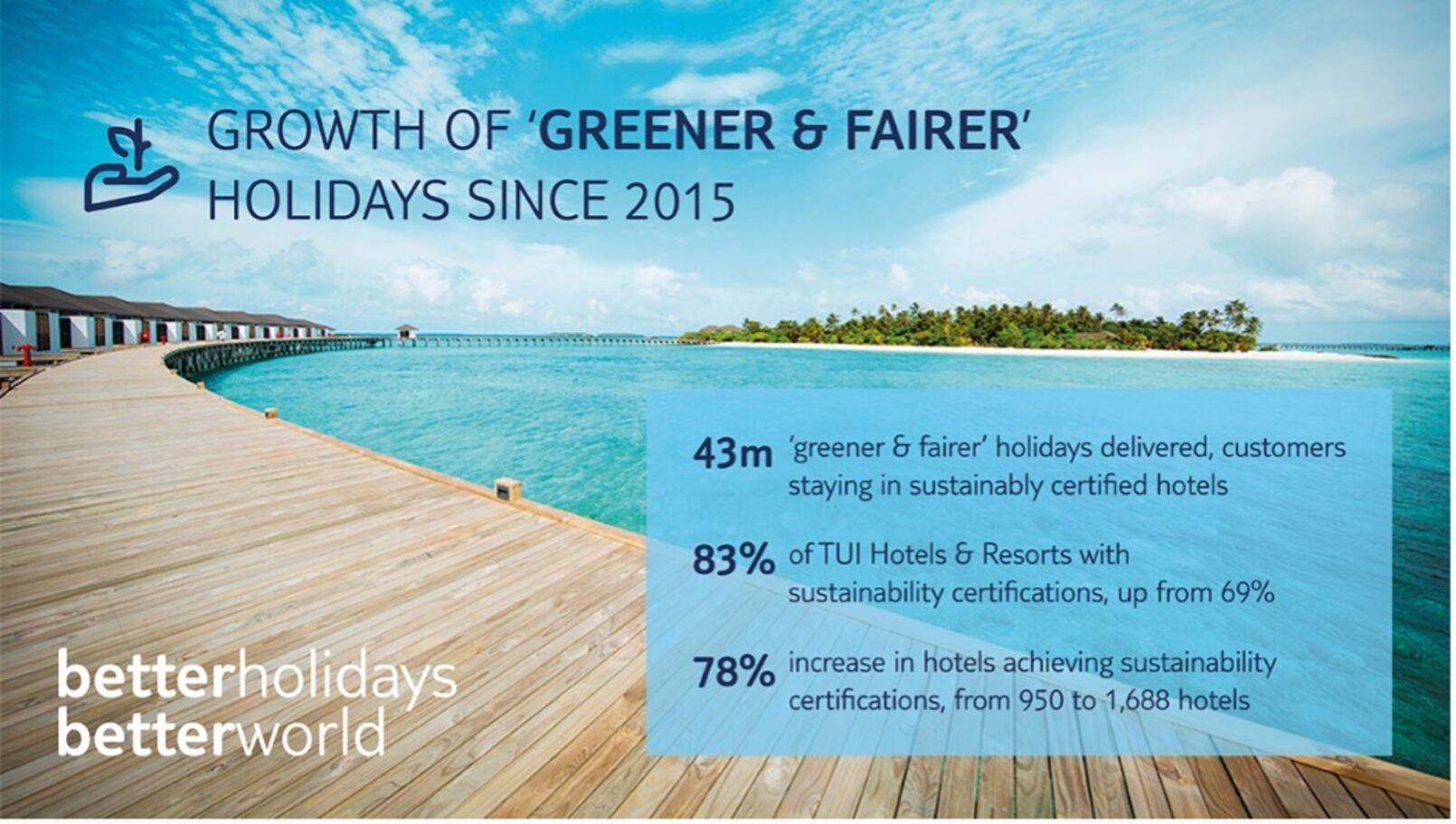 Despite the Corona Pandemic – that has brought global tourism almost to a standstill – we are not less committed to fostering sustainable travel. The topic is a priority to our guests as well, especially when travel will restart one day. Our global effort has already been successful before the Pandemic started. Our future strategy is about to be completed.
When TUI's Better Holidays, Better World sustainability strategy was rolled out across the business in 2015, the ambitious goal to deliver 10 million 'greener and fairer' holidays per year by 2020 was set. Data published in the latest sustainability report shows that this goal was achieved. 10.3 million customers stayed in hotels with sustainability certifications in 2019 alone, reaching our ambition of 10 million one year early. Over the course of six years (2015 to 2020), 43 million "greener and fairer" holidays had been delivered.
Hotels are the driving force for improving TUI's sustainability performance in destinations. By "greener and fairer" holidays, TUI means one that includes a stay at a hotel which has achieved a credible independent sustainability certification. An analysis of 300 hotels shows that hotels with sustainability certifications out-perform non-certified hotels on environmental performance:
CO2 emissions: 10 per cent lower CO2.
Waste: 24 per cent lower waste volume, 19 per cent less fresh water per guest night.
Green energy: 23 per cent higher use of green energy.
Staff: 9 per cent higher employment rate of employees from the destination. They also deliver higher quality and customer satisfaction as data shows.
Based on these findings, the difference between 43 million customers going on holiday for a week staying at a sustainably certified hotel verse a non-certified hotels would amount to the equivalent annual CO2 emissions of 144,000 cars, the annual energy needs of 108,000 households, the water volume of 10,600 Olympic-sized swimming pools – and a volume of waste that would require 15,700 waste trucks to transport.
"43 million greener and fairer holidays are a strong starting point for TUI Group's commitment to sustainability. They show: We take responsibility and we work on concrete solutions for more sustainable tourism, together with our partners in the destinations. As an industry leader, we are able to set standards in sustainability and scale them globally. Our sustainability strategy for the coming years will build on these successes and drive impactful change. Ecological sustainability as nature and species conservation, as well as social sustainability – i.e. better training, education and life prospects for the people living in the holiday destinations – are equally important goals. We will present the strategy shortly," says Thomas Ellerbeck, member of the Group Executive Committee and Chief Sustainability Officer of TUI Group.
Setting the standard
All our TUI hotels worldwide are certified along the standards set by the Global Sustainable Tourism Council (GSTC). The criteria are organised around four main themes: effective sustainability planning, maximising social and economic benefits for the local community, enhancing cultural heritage, and reducing negative impacts to the environment. In addition to that, TUI encourages all hotels offered to its customers to obtain this certification and sustainability expectations for accommodation suppliers are set in contracts.